Baked Eggplant with Cheddar Cheese
by
, Updated April 9, 2017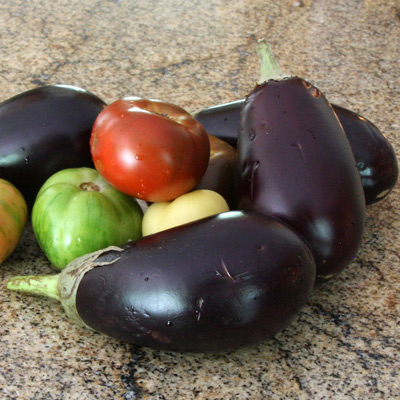 This is an uncomplicated eggplant recipe, made with a tomato mixture and cheese. I like sharp Cheddar in this dish, but mild or a Cheddar combination would work as well.
Prep Time: 12 minutes
Cook Time: 1 Hour 15 Minutes
Total Time: 1 hour 30 minutes
Instructions:
Heat the oven to 350 F.
Saute onion in a large skillet in oil over medium heat. Add tomato puree, 2/3 cup water, oregano, salt, and pepper; bring to a boil. Reduce heat and simmer for 15 minutes.
Layer half each of sliced eggplant and tomato mixture in a lightly greased shallow 2-quart baking dish. Top with half of the shredded cheese, remaining eggplant, and remaining tomato mixture.
Cover and bake for 55 minutes.
Remove cover and top with remaining cheese; bake 5 minutes longer, or until cheese is melted.
Serves 6

Calories per serving:

237
Site Search