Swedish Meatballs With Sour Cream
by
, Updated April 6, 2017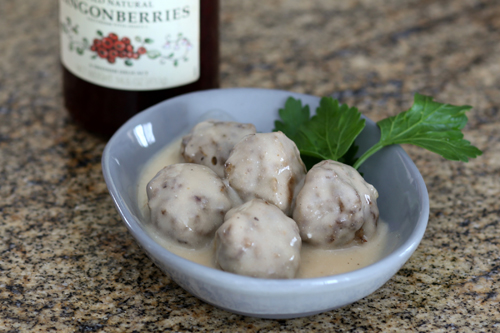 A sour cream sauce is served with these perfectly spiced Swedish meatballs. Use purchased beef broth or your own homemade stock in this recipe.

For authenticity, serve the meatballs with lingonberry jam. Cranberry relish or whole cranberry sauce would be a good substitute for the lingonberry jam.

If you prefer, you can use heavy cream instead of sour cream in this recipe. I like the meatballs and sauce over medium cooked noodles, but they would be delicious over rice or potatoes as well.
Prep Time: 20 minutes
Cook Time: 25 minutes
Total Time: 40 minutes
Ingredients:
Sauce
Instructions:
In a skillet or saute pan over medium heat, melt the butter with the olive oil. Add the chopped onion and cook, stirring, until the onion is translucent and begins to color. Set aside.
In a large bowl, whisk the eggs with the 1/4 cup of milk, half-and-half, or light cream. Add the bread crumbs, 1 teaspoon of kosher salt, the nutmeg and allspice, and 1/4 teaspoon of black pepper. Blend well.
Heat the oven to 400 F. Line a half sheet pan or large rimmed jelly roll pan with foil. Put a cooling rack in the pan if you have one that will fit.
Add the ground pork, ground beef, and sauteed onions to the bread crumb mixture and mix with your hands until well blended. Shape into meatballs about 1 to 1 1/4 inches in diameter, about 1 ounce each.
Arrange the meatballs in the prepared sheet pan (or on the rack in the sheet pan, if using).
Bake for 25 minutes, until the meatballs are cooked through. Remove the meatballs from the oven and drain off any excess grease.
Meanwhile, make the sauce. In a medium saucepan over medium heat, melt the 5 tablespoons of butter. When the butter is foamy, stir in the flour. Cook, stirring, for 2 minutes. Gradually whisk the beef stock into the roux. Cook, stirring constantly, until thickened and bubbling. Reduce the heat to low and simmer for 2 minutes.
Stir the sour cream into the sauce, whisking until smooth. Add the drained meatballs to the sauce and heat through. Do not boil.
40 meatballs
Site Search