Reuben Sandwiches
by
, Updated April 6, 2017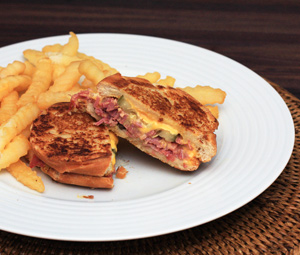 These grilled Reuben sandwiches make a fabulous weeknight family dinner with soup or salad, or serve them for lunch. The sauerkraut and Thousand Island dressing flavor these classic sandwiches.
Prep Time: 12 minutes
Cook Time: 10 minutes
Total Time: 22 minutes
Ingredients:
Instructions:
Heat a nonstick skillet or griddle over medium heat.
Spread each of 4 slices of bread with about 1 tablespoon of dressing, then top each with one-quarter of the corned beef.
Top the corned beef with 1 slice of Swiss cheese then about 1/3 cup of sauerkraut.
Top the sauerkraut with another slice of Swiss cheese.
Spread with another 1 tablespoon of dressing.
Top each sandwich with the remaining 4 slices of bread.
Butter the top and bottom of each sandwich.
Grill in the hot pan for about 3 to 5 minutes on each side, or until the bread is nicely browned and cheese is melted.
Serves 4

Calories per serving:

464


Fat per serving:

36.1



Site Search