Raspberry Muffins with Streusel Topping
by
, Updated April 6, 2017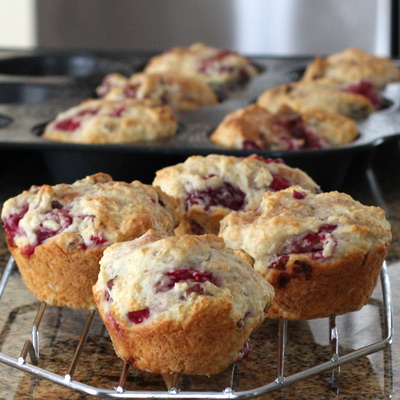 These raspberry muffins are a great way to start the day, and the streusel topping makes them extra-special. Use frozen (not thawed) and unsweetened raspberries in these delightful muffins.
Prep Time: 10 minutes
Cook Time: 24 minutes
Total Time: 30 minutes
Ingredients:
Topping
Instructions:
Lightly grease a muffin pan or line with paper cupcake liners. Heat oven to 375 F.
Combine the 1 1/2 cups of flour, baking powder, and granulated sugar in a bowl; whisk to blend.
In another bowl, whisk together the egg, milk, and 1/2 cup of melted butter. Stir the milk and egg mixture into the dry ingredients, stirring just until moistened. Fold in the frozen raspberries.
Spoon the batter into the prepared muffin cups, filling about 2/3 full.
Combine the topping ingredients, stirring until blended and crumbly. Sprinkle over the muffins.
Bake muffins for about 20 to 25 minutes.
Makes about 12

Calories per serving:

222


Fat per serving:

11.7




More Recipes
Apple Bran Muffins
Date Muffins with Streusel Topping
Banana Bran Muffins
Site Search