Haddock With Newburg Sauce
by
, Updated April 6, 2017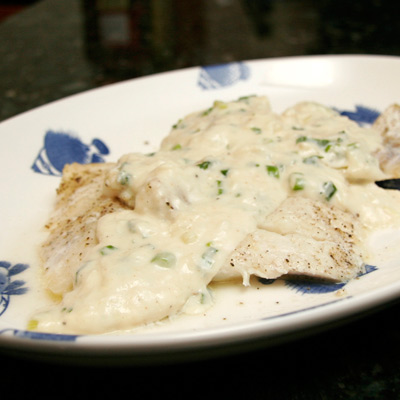 This simple baked haddock gets loads of flavor from the delicious classic Newburg sauce. Serve this fish dish with baked potatoes or a rice pilaf for a fabulous meal.
Prep Time: 15 minutes
Cook Time: 35 minutes
Total Time: 50 minutes
Ingredients:
Instructions:
Heat the oven to 350 F.
Lightly butter a baking dish or spray with nonstick cooking spray.
Arrange the haddock in the baking dish. Sprinkle lightly with salt and pepper and drizzle with the 2 tablespoons of melted butter.
Bake for about 25 minutes, or until the fish flakes easily with a fork.
Meanwhile, prepare the sauce. 5. Melt the 3 tablespoons of butter in a medium saucepan over medium-low heat. Stir in the flour, 3/4 teaspoon salt, paprika, nutmeg, and a dash of cayenne pepper. Cook, stirring, for 2 minutes. Add the light cream and milk, stirring constantly. Cook, stirring, until thickened.
Whisk about 1/3 of the hot sauce into the beaten egg yolks.
Return the egg yolk mixture to the saucepan, stir in the sherry, and cook, stirring, for about 2 minutes longer, until hot. Do not let the mixture boil.
Serve the sauce over the hot baked haddock.
Serves 4

Calories per serving:

433


Fat per serving:

25.7



Site Search