Cranberry Orange Bread
by
, Updated April 6, 2017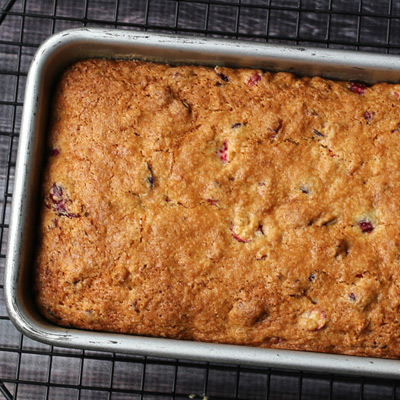 Fresh cranberries and orange juice, along with chopped nuts, make this bread festive and delicious.
Prep Time: 15 minutes
Cook Time: 50 minutes
Total Time: 1 hour 5 minutes
Ingredients:
Instructions:
Heat the oven to 350 F.
Grease a 9-by-5-by-3-inch loaf pan or spray with nonstick cooking or baking spray.
In a large bowl, combine the flour, sugar, baking powder, and soda. Work the butter in until the mixture resembles fine crumbs.
In another bowl, whisk together the orange juice and egg; add to the first mixture and stir until blended. Stir in the orange zest, nuts, and cranberries.
Spread the batter in the prepared loaf pan.
Bake for 50 to 60 minutes, or until a toothpick inserted into the center of the bread comes out clean.
Makes 14 slices

Calories per slice:

224


Fat per slice:

6.7



Site Search