Cornish Game Hens Roasted With Cilantro Butter
by
, Updated April 6, 2017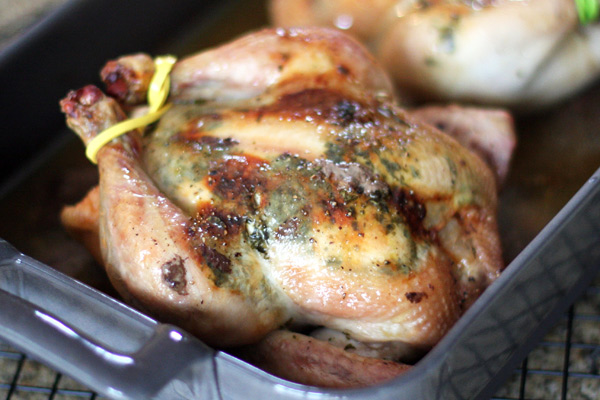 Cilantro, butter, garlic, and lime zest give these easy Cornish game hens unique flavor. The game hens are roasted to perfection with the butter mixture.
Prep Time: 15 minutes
Cook Time: 1 hour
Total Time: 1 hours 15 minutes
Ingredients:
Instructions:
Heat the oven to 375 F.
In a bowl, combine the softened butter with the lime zest, juice, minced garlic, and the fresh chopped cilantro. Mash and blend well with a fork.
Gently separate the skin from the breast meat and tuck a few teaspoons of the cilantro butter mixture evenly under the skin of each hen.
Arrange the game hens in a roasting pan.
Put any remaining cilantro butter mixture in the cavity of the birds or rub some over the skin. Sprinkle the hens lightly with kosher salt and freshly ground black pepper.
Roast the Cornish game hens for 1 hour to 1 hour and 15 minutes, or until the birds register at least 165 F on an instant read thermometer inserted in the thickest part of the thigh of a hen.
Makes 4 to 6 servings.
Site Search