Individual Breakfast Casseroles
by
, Updated April 5, 2017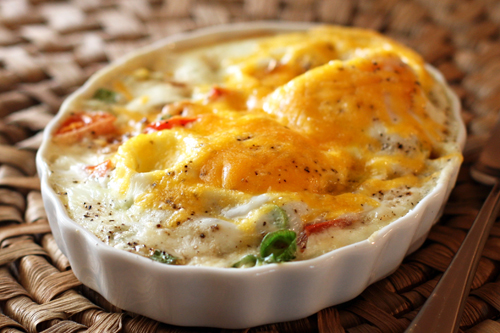 These breakfast casseroles are not only easy and convenient, they're low-carb. The eggs are baked with sausage, diced tomatoes, and cheese. The single-serve casseroles are similar to shirred eggs, but made heartier with the sausage. Add bacon or ham instead of sausage if you'd like. This recipe makes enough for four people, but it's easily scaled up or down.
Prep Time: 10 minutes
Cook Time: 15 minutes
Total Time: 25 minutes
Ingredients:
Instructions:
Heat oven to 350 F.
Generously butter four 6 to 8-ounce ramekins or 1-cup baking dishes.
Heat the oil in a skillet over medium heat, brown the sliced sausage; set aside.
Arrange about one-quarter of the sausage slices in each ramekin.
Divide the green onions and diced tomatoes evenly among the ramekins.
Add 2 eggs to each ramekin and drizzle with 1 tablespoon of heavy cream.
Arrange the ramekins on a baking sheet. Bake for about 12 to 16 minutes, top with a tablespoon or two of Cheddar cheese, then bake or broil just until cheese is melted.
4 Servings
Site Search