Easy Skillet Pork Chops With Garlic
by
, Updated April 1, 2017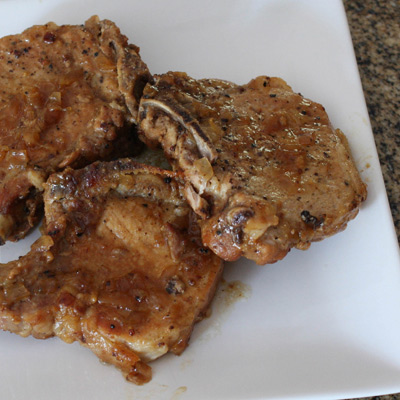 These pork chops are browned then simmered with a very simple sauce made with a little sherry or broth, brown sugar, ggarlic, and seasonings.
Prep Time: 6 minutes
Cook Time: 40 minutes
Total Time: 46 minutes
Ingredients:
Sauce
Instructions:
Trim fat from pork chops. Heat oil in skillet; add pork chops and brown, turning to brown both sides. Remove chops and add a little more oil if needed.
Saute garlic for a minute, taking care not to burn it.
For sauce, combine the 2 teaspoons of oil, sherry (or broth), soy sauce, brown sugar and red pepper.
Place pork chops in skillet and pour sauce over them. Cover tightly and simmer over low heat until chops are tender and cooked through, about 30 to 35 minutes. Add a tablespoon or two of water if sauce cooks down too much. Turn chops once. Remove chops to warm platter and keep warm.
Dissolve the cornstarch in the cold water; add to sauce and continue to cook until thickened.
Pour sauce over chops and serve.
Serves 4.
Site Search