Braised Beef Shanks
by
, Updated April 1, 2017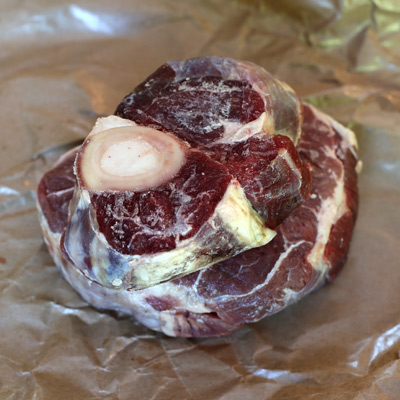 These tender beef shanks are braised in the slow cooker or oven. Feel free to use beef broth instead of red wine.
Ingredients:
Gremolata
Instructions:
Combine wine, tomato paste, basil, marjoram, 2 cloves minced garlic and salt in slow cooker. Add rutabaga; top with beef shanks, leeks and carrots. Cover and cook on LOW for 9 hours, or on HIGH for about 4 1/2 hours, or until beef is fork-tender.
Place the beef shanks and vegetables in serving dish. Pour cooking liquid into small saucepan. Skim off fat.
Whisk together the flour and 2 tablespoons water in small bowl until smooth. Whisk in a little of the cooking liquid. Whisk flour mixture into saucepan. Cook over medium heat, stirring, until mixture bubbles and thickens, about 3 minutes. Spoon sauce over meat and vegetables.
For the gremolata, combine the grated lemon zest with 1 clove of minced garlic and 1/4 cup of finely chopped parsley. Sprinkle over serving dish or over the individual servings.
To prepare on the stovetop and oven, heat 1 tablespoon of oil in an ovenproof Dutch oven. Add beef shanks; cook until browned, about 8 to 10 minutes, turning to brown all sides. Remove meat. Cook leeks, rutabaga and carrot in 1 tablespoon of oil in Dutch oven for about 5 minutes. Add 1 cup water, beef, wine, tomato paste, basil, marjoram, garlic, salt. Bring to simmering.
Cover and bake in preheated 325 F oven for 3 hours, or until beef is very tender.
Serves 4

Calories per serving:

485


Fat per serving:

25.0




Beef and Lamb Recipe Index
Site Search