Oven Barbecued Beef
by
, Updated April 1, 2017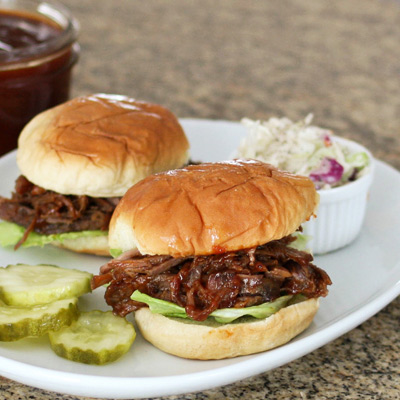 This oven barbecued beef is made with a chuck roast and a homemade barbecue sauce. This easy oven meal is great with potatoes and side vegetable. The foil is loosely wrapped in foil then cooked to perfection.
Prep Time: 10 minutes
Cook Time: 3 hours
Total Time: 3 hours 10 minutes
Ingredients:
Sauce
Instructions:
Preheat oven to 300 F.
Trim excess fat from beef.
Line a large baking pan or roasting pan with a double thickness of foil large enough to wrap the roast loosely. Place meat on foil in pan.
Place the cream of mushroom soup and onion soup mix in a bowl.
Combine all sauce ingredients in a saucepan; simmer for 2 minutes. Stir into the soup mixture; pour over meat.
Pull the ends of the foil over the roast loosely, leaving at least an inch of space between the foil and the meat. Seal foil tightly.
Bake for 3 hours or longer, or until meat is very tender.
Let stand for 10 minutes before slicing.
Serve with the sauce over potatoes or noodles, if desired.
Serves 6

Calories per serving:

561


Fat per serving:

17.4g




More Pot Roast Recipes
Red Wine Yankee Pot Roast
Spiced Beef Chuck in Crockpot
Easy Barbecued Beef Easy Crockpot Barbecued Beef
Beef and Lamb Recipe Index

Site Search