Shepherd's Pie
by
, Updated March 29, 2017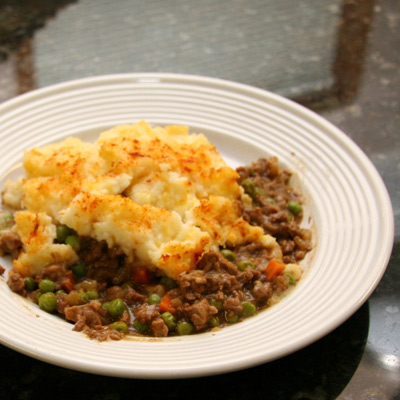 Although an authentic shepherd's pie is made with lamb, this one is made with leftover beef. If you have leftover lamb roast, feel free to use that instead. To make this even easier, you might use purchased refrigerated mashed potatoes, such as Country Crock or Bob Evans. Feel free to adapt the recipe with additional vegetables or replace the mushrooms with mixed vegetables or peas.
Prep Time: 20 minutes
Cook Time: 25 minutes
Total Time: 45 minutes
Ingredients:
Instructions:
Preheat oven to 400 F.
Put the mashed potatoes in a large bowl; add the onion and the egg and mix well.
In another bowl combine the beef with 2 tablespoons of the parsley, celery , mushrooms, salt, pepper, and milk.
Grease a 2-quart casserole.
Spoon half the potatoes into bottom of casserole. Top with meat mixture and cover with rest of potatoes. Sprinkle with cheese and remaining parsley and dot with butter.
Bake for 20 to 25 minutes until brown.
Serves 4

Calories per serving:

511


Fat per serving:

17.2g



Site Search