Pizza Sticks
Updated June 4, 2017 by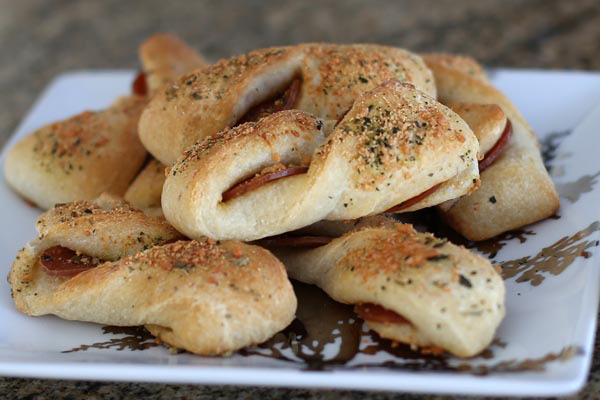 Soft breadsticks are enhanced with pepperoni and other pizza seasonings, making a great party or game day snack. Serve these breadsticks with warm pizza sauce for dipping.
Prep Time: 15 minutes
Cook Time: 20 minutes
Total Time: 35 minutes
Ingredients:


Instructions:
Preheat the oven to 350 F.
Line a baking sheet with foil or parchment paper.
Unroll the breadstick dough and separate.
Place three slices of pepperoni in a single layer over half of each breadstick. Fold remaining half of breadstick over top; seal the end and give it a twist.
Place the breadsticks on the prepared baking sheet and brush lightly with melted butter.
Combine the Parmesan cheese, Italian seasoning and garlic powder. Sprinkle evenly over each breadstick.
Bake in the preheated oven for 15 to 20 minutes, or until golden brown.
Serve with hot pizza sauce.
Makes 8 pizza sticks.
Site Search