Chocolate Icebox Cookies
by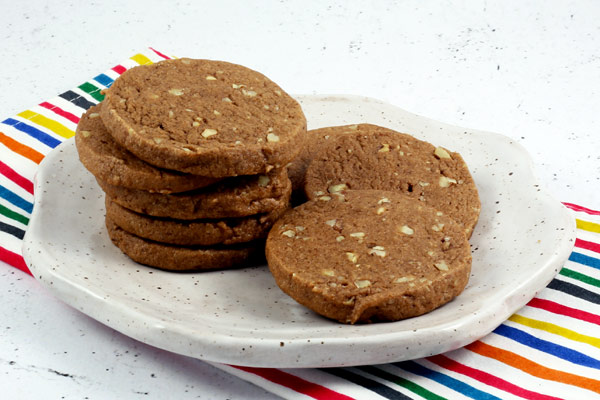 Chocolate icebox cookies are enhanced with optional espresso powder and chopped pecans or walnuts.

Icebox cookies are such a convenience. Just shape the logs and refrigerate or freeze them until you're ready to bake. Slice and bake as many as you want -- wrap the log and place it back in the refrigerator or freezer for another day. This is a great reason to double the recipe!
See Also:
No-Bake Chocolate Oat Cookies
Chewy Double Chocolate Chip Cookies
Prep Time: 10 minutes
Cook Time: 10 minutes
Total Time: 20 minutes
Ingredients:
Instructions:
Preheat the oven to 350 F.
Line a baking sheet with parchment paper or leave it ungreased.
In mixing bowl with electric mixer, beat the butter and sugar until light and fluffy. Add the vanilla and eggs, blending well.
In another bowl, combine the flour, baking soda, salt, cocoa powder, and espresso powder, if using; stir into creamed mixture, blending thoroughly. Stir in chopped nuts.
Place the cookie dough on a sheet of wax paper and shape into a roll about 2 inches in diameter. Wrap the roll in the wax paper and refrigerate until thoroughly chilled.
Slice the roll into thin slices. Place on the baking sheet and bake for 10 to 12 minutes.
Makes 48 Servings
Site Search