Creamy Bow Tie Pasta With Ham and Cheese
by
Updated February 25, 2019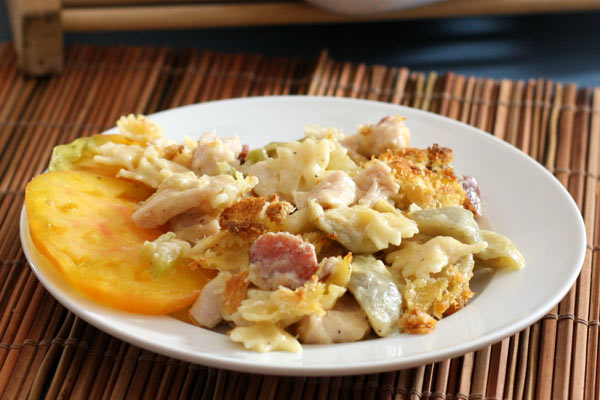 The creamy fontina cheese sauce brings the ingredients together in this easy bow tie pasta recipe. Ham and vegetables make the casserole a satisfying main dish. Serve this pasta casserole with a tossed salad and hot garlic bread.
Related:
Pasta With Asparagus and Ham
Prep Time: 18 minutes
Cook Time: 35 minutes
Total Time: 53 minutes
Ingredients:
Instructions:
Cook the pasta in boiling salted water following the package directions. Rinse and drain in a strainer or colander; set aside.
Preheat the oven to 350 F.
Melt 4 tablespoons of the butter in a large skillet over medium-low heat; add the celery, onions, and diced ham. Cook until the onions are translucent and the celery is tender. Add the sage and flour; cook, stirring, for 2 minutes. Add the milk and cook, stirring, until thickened.
Add the fontina and cheddar cheese to the sauce mixture and continue cooking until cheese has melted. Taste and add salt and pepper.
Add the drained pasta to the sauce mixture and stir until blended.
Turn the pasta mixture into a 2- to 2 1/2-quart baking dish.
Melt the remaining 2 tablespoons of butter and toss with the bread crumbs; sprinkle over the top of the pasta.
Bake for 20 to 25 minutes, until bubbly and lightly browned.
Variations
Add 1 cup of thawed frozen peas or about 1 cup of chopped canned or frozen thawed artichokes.
Makes 4 to 6 servings.
Site Search