Homemade Whole Wheat Hamburger Buns
by
, August 13, 2017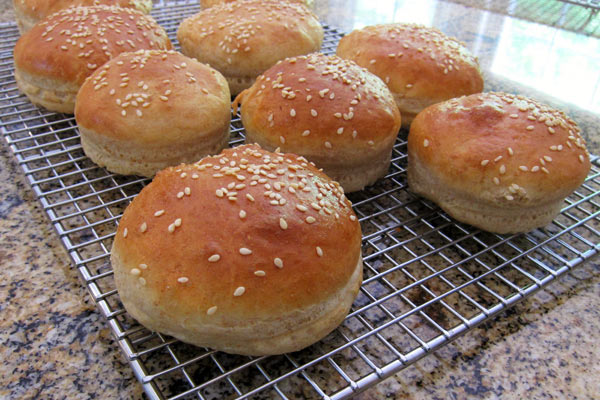 These homemade hamburger buns are made with part whole wheat flour, giving them some extra fiber and nutritive value. For uniform shaping, bake them in canning jar bands or similar forms.
Related:
Best Ever Oatmeal Molasses Bread
Prep Time: 30 minutes
Cook Time: 15 minutes
Total Time: 45 minutes
Ingredients:
Instructions:
In a large mixing bowl, combine the yeast and water. Let stand for 10 minutes.
With the dough hook attachment of a stand mixer or by hand, work in the all-purpose and wheat flours, the egg yolk, 1 teaspoon of salt, sugar, and melted butter.
Knead with the stand mixer or by hand on a lightly floured work surface for about 10 minutes, or until smooth and elastic. Work in small amounts of flour, as needed, to keep the dough from sticking to the sides of the bowl or to the work surface.
Coat the inside of a large bowl with vegetable oil or melted butter. Gather the dough into a ball and place it in the oiled bowl. Turn the dough to coat thoroughly with the oil. Cover the bowl with plastic wrap and place it in a warm, draft free place until doubled, about 1 hour.
If you are using jar bands or baking forms, spray the insides with nonstick cooking or baking spray. Use wide mouth bands for large buns. For slider buns, use smaller bands.
Line 2 large baking sheets with parchment paper.
Place jar bands or forms on the prepared baking sheets.
Remove the risen dough to a lightly floured work surface and press out excess air bubbles. Tear off pieces of dough and shape into balls, roughly 2 ounces each (about 1 1/4 to 1 1/2 ounces for small buns). Flatten slightly to form disks.
Place on the parchment lined baking sheet in the jar bands, or place the dough disks on the baking sheets, leaving at least 2 inches between each disk.
Cover the baking sheets loosely with tea towels and let the buns rise in a warm place for about 45 minutes, or until doubled.
Heat the oven to 400 F.
Whisk the egg white with the 1 tablespoon of water and a pinch of salt. Gently brush each bun with the egg wash and sprinkle with seeds, if desired.
Bake for about 15 minutes, or until nicely browned. Makes 12 large buns or about 16 to 18 small buns.
Makes 12 Servings
Site Search