Cajun-Style Warm Potato Salad
by
, October 4, 2017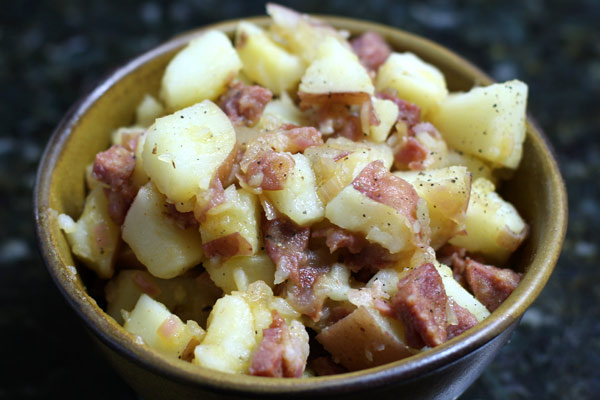 Spicy smoked sausage and Cajun seasonings take this potato salad to new levels. The warm potato salad is made with typical ingredients plus the andouille sausage and seasonings. Use milder smoked sausage in the salad if you'd like.
Related:
Weekend Potato Salad
Hot German Potato Salad
Prep Time: 20 minutes
Cook Time: 25 minutes
Total Time: 45 minutes
Ingredients:
Instructions:
Put the diced potatoes in a saucepan and cover with water; add 1 teaspoon of kosher salt. Bring the potatoes to a boil, cover, and continue boiling slowly for about 10 to 15 minutes, or just until tender. Drain and leave the cover ajar to allow excess moisture evaporate.
In a skillet, saute the bacon until almost crisp; remove to paper towels to drain. In the drippings, cook the diced sausage with red onion until the sausage is lightly browned and onion is softened.
Add the Cajun seasoning and pepper.
Put the drained warm potatoes in a serving bowl. Add the drained bacon and the sausage mixture and gently toss.
Heat the vinegar, sugar, and water in a saucepan over medium-low heat until sugar is dissolved. Drizzle over the potato mixture and gently toss to blend ingredients.
Serve warm.
Makes 4 servings.
Site Search