Baked Tomatoes With Cheese and Herbs
by
, September 10, 2017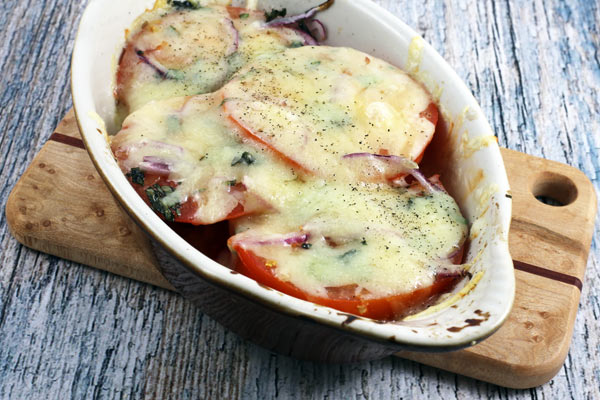 These tomatoes are sliced and baked to perfection with layers of shredded fontina cheese, herbs, and some optional minced onion. Feel free to use cheddar, mozzarella, or Parmesan cheese. These tomatoes take about 20 minutes to prepare and bake, start to finish.
Related:
Spaghetti Squash With Fresh Tomatoes, Basil, and Parmesan Cheese
Zucchini and Tomato Skillet
Prep Time: 10 minutes
Cook Time: 12 minutes
Total Time: 22 minutes
Ingredients:
Instructions:
Preheat the oven to 425 F.
Butter a shallow baking dish or spray it with nonstick cooking spray.
Remove the stems from the tomatoes and slice them into 1/2-inch rounds. Brush the tomatoes with the melted butter or olive oil.
Layer the tomato slices with the thinly sliced onion (if using), the chopped fresh basil or parsley, and the shredded cheese.
Bake 10 to 15 minutes, or until hot and the cheese has melted.
Makes 4 servings.
Site Search