Texas Burgers With BBQ Sauce
by
, May 5, 2017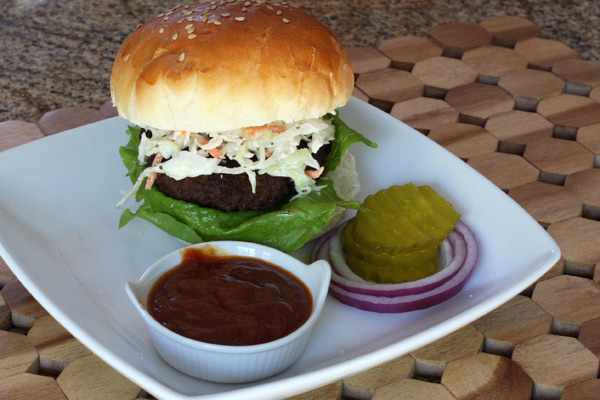 These Texas-style hamburgers are finished with a bold, tasty barbecue sauce and creamy coleslaw. Assemble the burgers with a topping of barbecue sauce and coleslaw or serve them on the toasted buns with all topping choices at the table. These are perfect for a family cookout.

Try to prepare the coleslaw a few hours in advance for best flavor.
Prep Time: 25 minutes
Cook Time: 25 minutes
Total Time: 50 minutes
Ingredients:
Instructions:
Barbecue Sauce
In a saucepan over medium heat, melt the butter. Add the chopped onion and cook until translucent. Add the garlic and saute for about 2 minutes longer.
Add the ketchup, lemon juice, Worcestershire sauce, molasses, mustard, and cayenne pepper. Cover the pan with a lid, slightly ajar to reduce splatters. Simmer, stirring occasionally, for about 10 minutes. Set aside.
Coleslaw
Put the shredded cabbage and carrots in a large bowl.
In a small bowl, whisk the mayonnaise with the vinegar, sugar, celery seeds, onion powder, and 1/4 teaspoon of freshly ground black pepper. Add the dressing to the cabbage mixture and toss to blend ingredients. Add salt, to taste, or as desired. Cover and refrigerate until serving time.
Burgers
Prepare the gas or charcoal grill for direct heat, with burners on high or preheat an even layer of coals.
Alternatively, oil a grill pan and heat over high heat on the stovetop.
Separate the ground beef into four 6-ounce portions and shape into burgers. With your thumb, make a slight indention in the center of each. Rub the patties all over with a little olive oil and sprinkle with salt and freshly ground black pepper.
Grill the burgers over high heat for about 5 minutes on each side. Cook for about 2 to 3 minutes longer, brushing with about 1/4 to 1/3 cup of the barbecue sauce. The burgers should register at least 160 F.in the center.
Meanwhile, toast or grill the split hamburger buns.
Assemble the burgers in the buns with more of the barbecue sauce and a lettuce leaf, if desired. Top the burgers with a generous spoonful of coleslaw or serve the coleslaw along with the other toppings at the table.
Makes 4 Servings
Site Search