Sweet and Sour Carrots
by
, July 22, 2017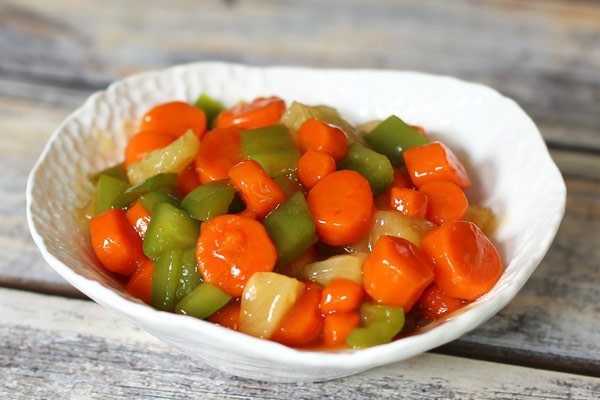 The sweet and sour sauce for this dish is made with pineapple, bell pepper, soy sauce, and sugar. The sauce mixture is thickened with cornstarch. Add some chili garlic paste or red pepper flakes to the sauce if you like a bit of heat.
Prep Time: 10 minutes
Cook Time: 18 minutes
Total Time: 28 minutes
Ingredients:
Instructions:
Put the carrots in a saucepan and cover with water. Add 1 teaspoon of salt and bring to a boil over high heat. Cover, reduce heat to medium-low, and cook for about 15 minutes, or until just tender. Add the bell pepper and cook, covered, for 3 minutes longer. Drain.
Drain the pineapple, reserving the juice. Add water to the juice to make 1/3 cup.
In a saucepan, combine the sugar, cornstarch, and 1/4 teaspoon of salt. Stir in the pineapple juice mixture, the vinegar, and soy sauce, along with the chili garlic paste, if using. Cook over medium heat until thickened and bubbly, stirring frequently.
Add the drained carrots, peppers, and the pineapple chunks. Heat through and transfer to a serving dish.
Garnish with chopped cilantro, if desired.
Makes 6 Servings
Site Search