Filled Sugar Cookies
by
, July 25, 2017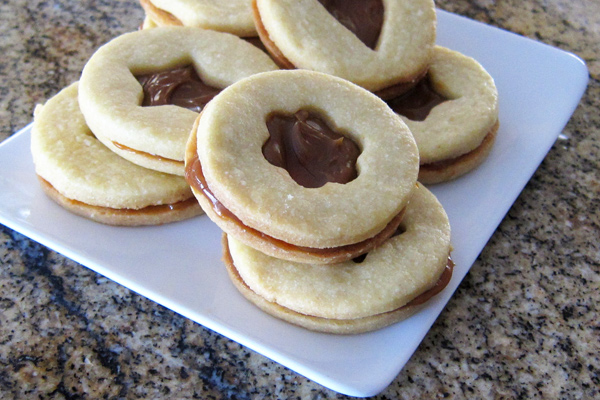 I filled these cut-out sugar cookies with homemade dulce de leche. They can be filled with a thick jam or frosting as well.
Prep Time: 20 minutes
Cook Time: 12 minutes
Total Time: 22 minutes
Ingredients:
Instructions:
In a mixing bowl with an electric mixer on low speed, combine the flour, sugar, and salt. Mix to blend the dry ingredients thoroughly. Add the butter pieces and mix on low speed until the mixture resembles crumbs. Turn the mixer up to medium-low and beat for about 2 minutes longer, or until the mixture begins to clump together. Add the egg yolks and vanilla. Beat on medium-low speed until the mixture comes together to form a soft dough.
Turn the dough out onto a lightly floured surface; gather into a ball and knead a few times. Shape into two flat disks and wrap each one in plastic wrap. Refrigerate for about 30 to 45 minutes, or until chilled.
Roll a disk out between 2 sheets of wax paper or parchment paper to about 1/8 inch thickness. If the dough is too cold and cracks, let it stand at room temperature for a few more minutes. Take care that the dough does not stick to the paper. Flour lightly and change the paper once or twice, if necessary.
Cut the dough out with round cookie cutters and arrange on a baking sheet lined with parchment paper or silicone baking mat. Repeat with the second disk, but cut a small circle or design out of the middle of each round with a mini cookie cutter.
Preheat the oven to 375 F.
Refrigerate the cut out cookies while the oven is preheating.
Bake for about 9 to 12 minutes, until edges just begin to brown. Cool on a rack.
Spread the cooled solid cookie bottoms with a thick chocolate ganache, dulce de leche, buttercream type of frosting, or jam.
Top each cookie with one of the cookies with a cut-out center.
Makes 2 Dozen Filled Cookies
Site Search