Strawberry Pretzel Dessert
by
, April 29, 2017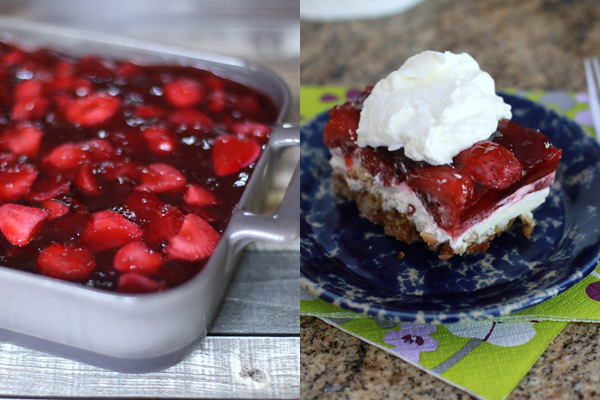 This strawberry pretzel dessert is often called a salad. It's a wonderful layered dish with a sweet-salty pretzel layer, a cream cheese and whipped topping layer, and a gelatin and strawberry layer. This is a great dessert/salad for a Thanksgiving dinner.
Prep Time: 10 minutes
Total Time: 20 minutes
Ingredients:
Instructions:
Put the gelatin powder in a bowl and add the boiling water; stir until dissolved. Refrigerate the mixture for about 1 1/2 hours, or until partially set.
Heat the oven to 350 F.
In a large bowl, combine the crushed pretzels with the melted butter and sugar; mix well. Press the pretzel mixture into the bottom of an ungreased 9-by-13-by-2-inch baking pan. Bake for 10 minutes. Remove to a rack to cool completely.
In a mixing bowl with an electric mixer, beat the thawed whipped topping with the cream cheese until well blended.
Spoon the cream cheese mixture over the prepared crust and spread evenly.
Sppon the gelatin evenly over the cream cheese layer.
Refrigerate until thoroughly chilled and firm, about 4 hours.
Cut into squares and serve with more whipped topping or freshly whipped cream and fresh sliced strawberries, if desired.
12 Servings
Site Search