Steaks With Onions
by
, April 15, 2017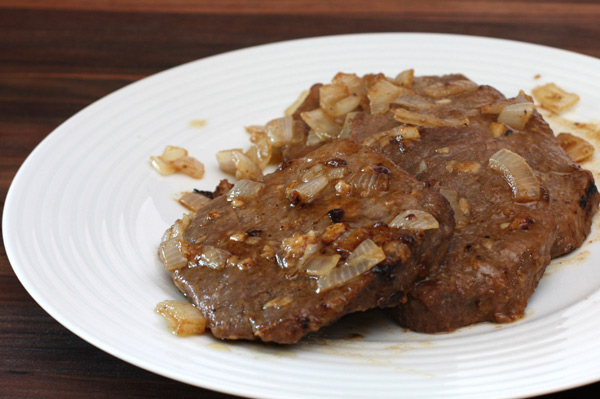 Use thin, budget-friendly round steaks or more tender sirloin steaks in this recipe. The steaks are marinated and then quickly fried with onions.
Prep Time: 12 minutes
Cook Time: 14 minutes
Total Time: 26 minutes
Ingredients:
Instructions:
Put the steaks in a plastic food storage bag or nonreactive container. Add the lemon juice, soy sauce, pepper, sugar, and garlic. Mix well to coat the beef.
Cover and refrigerate the steaks for 30 minutes to 1 hour.
Heat half of the oil in a large skillet over medium heat. Fry the sliced onion until softened and lightly browned, about 8 to 12 minutes. Remove the onions to a plate and set aside.
Add the remaining oil to the skillet. Remove the steaks from the marinade; set the marinade aside. Cook the steaks until nicely browned on one side, about 2 to 3 minutes. Turn the steaks cook for another 2 to 3 minutes, or until the steaks are browned.
Add the onions and reserved marinade to the skillet with the steaks and bring to a boil. Reduce heat to medium-low and simmer for 2 minutes.
Serve the steaks with the sauce mixture and garnish with parsley if desired.
4 Servings
Site Search