Soft Pretzel Bites
by
, September 21, 2017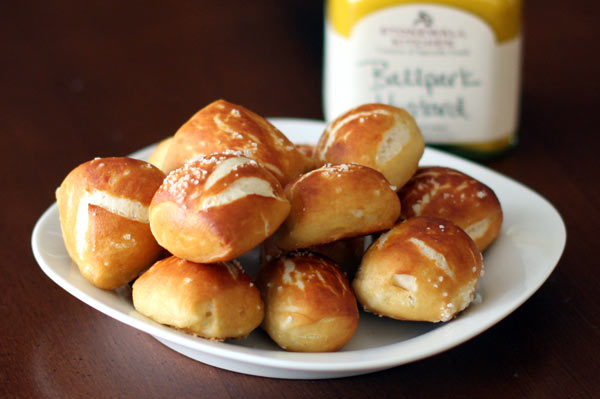 These little pretzel pillows make a fabulous game day snack with mustard or chocolate sauce for dipping. Or make them a little bigger and use them as slider buns. A stand mixer makes kneading super easy -- you could even use the bread machine to do the mixing and kneading.
Related:
Pizza Sticks
Prep Time: 25 minutes
Cook Time: 10 minutes
Total Time: 35 minutes (plus rising time)
Ingredients:
Instructions:
In a large bowl or bowl of a stand mixer, combine the water, yeast, and sugar. Let stand for 10 to 15 minutes. It should be slightly foamy.
Add the flour, melted butter, and salt. Mix slowly by hand or with the dough hook until dough holds together. Knead by hand on a floured surface or with the stand mixer and the dough hook on medium-low speed for about 8 to 10 minutes. Add more flour as needed to keep the dough from sticking to hands, counter, or bowl.
The dough should be firm but still slightly moist and tacky to the touch.
Oil a large bowl. Gather the dough into a ball and place in the oiled bowl. Turn the dough over, so all sides are coated with oil. Cover the bowl with plastic wrap and let the dough rise for about 1 hour, or until doubled.
Line a large baking sheet with parchment paper.
Put 2 to 3 quarts of water in a large saucepan or Dutch oven. Add the baking soda and stir to blend. Just before the dough is finished rising, bring the water and soda mixture to a boil.
Heat the oven to 400 F.
Line baking sheets with parchment paper.
Cut the dough into 4 or 5 portions and roll to make thick ropes. Cut the ropes into 1-inch lengths. Place them on the parchment paper lined baking sheets.
With a slotted spoon, lower several of the dough pieces into the boiling water and soda mixture. Let them boil for about 10 to 20 seconds; lift them out and put them back on the parchment paper. Repeat with the remaining pieces.
Sprinkle the pieces lightly with the kosher salt or sea salt.
Bake for about 10 minutes, or until deep golden brown.
Serve the pretzel bites with yellow mustard or aioli. For a sweet snack, serve them with chocolate or caramel sauce.
Makes 48 servings.
Site Search