Pumpkin Pecan Pancakes
by
, September 13, 2017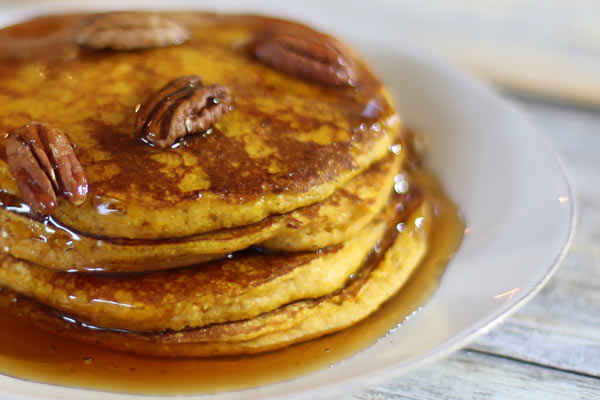 These pumpkin pancakes are filled with pumpkin flavor and chopped pecans. These are excellent pancakes to make for fall breakfasts. Leave the nuts out if you like, or sprinkle some toasted pecans over the pancakes along with the syrup.
Related:
Buttermilk Waffles With Variations
Pumpkin Cake Roll
Prep Time: 10 minutes
Cook Time: 10 minutes
Total Time: 20 minutes
Ingredients:
Instructions:
In a bowl, combine the flour, baking powder, cinnamon, nutmeg, allspice, and sugar
In a large bowl, whisk the pumpkin with the eggs, milk, oil, and vanilla. Add the dry ingredients and stir until well blended. Add the chopped pecans; stir to blend.
Brush a griddle or skillet with oil and place it over medium heat.
Pour about 1/4 cup of the batter onto the hot oiled griddle and cook until bubbles form and the edges look dry. Turn and brown the other side.
Serve pumpkin pancakes with butter and warmed pure maple syrup.
Makes 8 to 10 servings.
Site Search