Glazed Poppy Seed Muffins
by
, March 28, 2017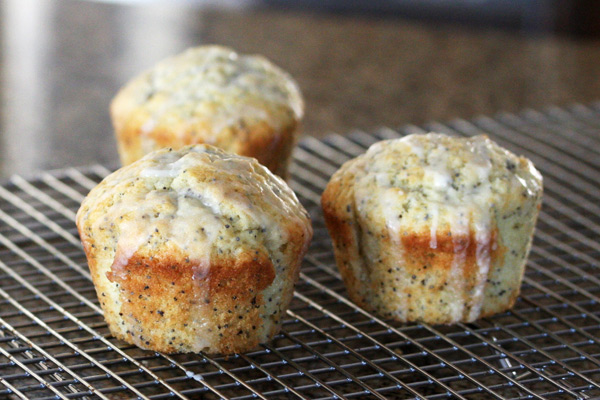 These poppy seed muffins are finished with a simple sweet glaze. Flavor the muffins and glaze with vanilla extract or almond extract.
Prep Time: 12 minutes
Cook Time: 23 minutes
Total Time: 35 minutes
Ingredients:
Instructions:
Heat the oven to 375 F.
Grease 16 muffin cups or line them with paper cupcake liners.
In a bowl, combine the flour, baking powder and soda, salt, and poppy seeds. Stir to blend thoroughly.
In a mixing bowl with an electric mixer, beat the 14 tablespoons of softened butter with the granulated sugar until light and fluffy. Add the eggs and 1 teaspoon of vanilla or 1/2 teaspoon of almond extract until well blended.
With the mixer on low speed, beat in the flour mixture, alternating with the buttermilk. Beat just until thoroughly blended.
Fill the muffin cups about two-thirds full.
Bake in the preheated oven for about 23 to 26 minutes. A toothpick inserted into the center of a muffin will come out clean when they're done.
While the muffins are baking, make the icing. Combine the powdered sugar with the melted butter, 1 teaspoon of vanilla extract or 1/2 teaspoon of vanilla, and 3 tablespoon of milk or half-and-half. Whisk or beat unti smooth. Add more milk or half-and-half as needed for a thin glaze.
When the muffins test done, remove the pans to a rack to cool slightly.
Remove the warm muffins to a rack and drizzle with the glaze.
16 Servings
Site Search