Easy Cookout Beans With Beef
by
, May 7, 2017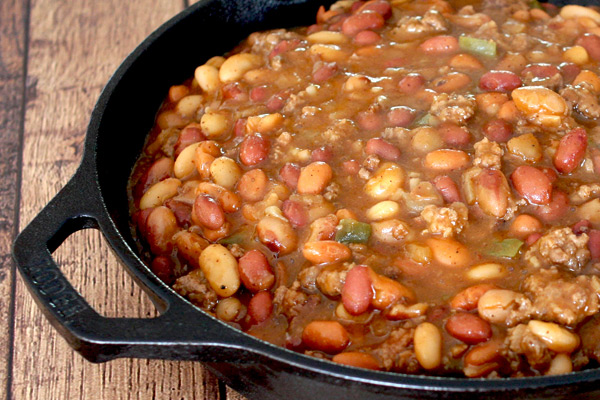 These easy baked beans are "doctored" with some ground beef, ketchup, chili powder, and brown sugar. These beans are an excellent side dish to serve with barbecue.
Prep Time: 10 minutes
Cook Time: 50 minutes
Total Time: 1 hour
Ingredients:
Instructions:
Preheat the oven to 350 F.
Lightly grease a 2-quart baking dish.
Heat the vegetable oil in a large skillet over medium heat. Add the ground beef and cook, stirring and breaking up, until no longer pink. Remove to a plate or bowl and set aside.
Add the onions to the skillet and cook for about 5 minutes. Add the bell pepper and continue cooking until the onion is lightly browned. Add the beef back to the skillet.
In a bowl, combine the ketchup, brown sugar, mustard, vinegar, and chili powder. Stir the sauce mixture into the beef mixture and add the beans. Stir gently to blend ingredients.
Transfer the beef and beans to the prepared baking dish and bake for about 35 to 45 minutes, until hot and bubbly.
4 Servings
Site Search