Peanut Butter Chocolate Chip Crumb Cake
by
, August 20, 2017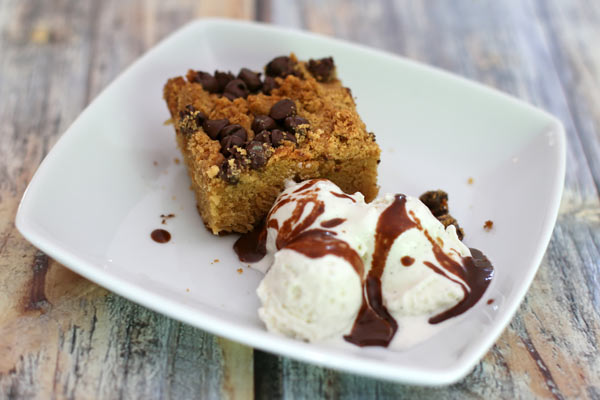 This peanut butter and chocolate chip crumb cake will be an instant hit. The moist peanut butter cake is topped with a chocolate chip and crumble mixture. This would also be good with part or all peanut butter chips in the topping.
Related:
Peanut Butter Cupcakes
Prep Time: 10 minutes
Cook Time: 40 minutes
Total Time: 50 minutes
Ingredients:
Instructions:
Preheat the oven to 350 F.
Grease and flour a 9-by-13-by-2-inch baking pan.
In a large mixing bowl with an electric mixer on low speed, combine the flour, brown sugar, peanut butter, and butter. Beat just until crumbly. Reserve one cup; set aside.
To crumb mixture in the mixing bowl, add the baking powder, baking soda, milk, vanilla, and eggs. Beat on low speed until moistened, then beat at medium speed for 3 minutes, scraping sides and bottom of bowl several times.
Pour the batter into the prepared baking pan.
Sprinkle the reserved crumbs evenly over the top of the batter and then sprinkle the chocolate chips evenly over crumbs.
Bake the cake for 35 to 40 minutes, or until a toothpick inserted in center comes out clean.
Makes 12 to 16 Servings
Site Search