Easy Pasta Alfredo
by
, August 11, 2017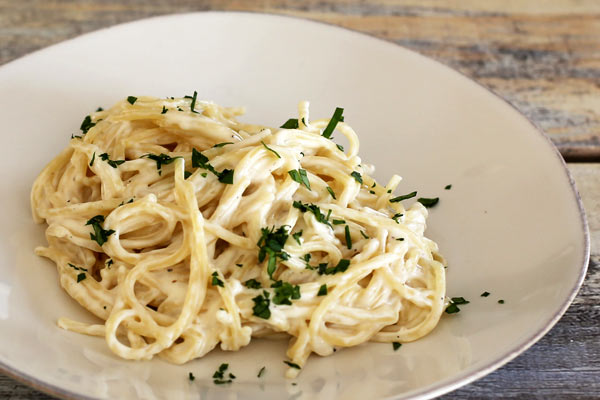 This pasta with Alfredo sauce is super easy to fix. You'll have a fabulous meal in as little as 15 minutes. Use a good quality Parmesan cheese for best flavor, and feel free to adjust the amount of garlic powder to suit your taste. Use half-and-half for rich flavor.
Prep Time: 5 minutes
Cook Time: 10 minutes
Total Time: 15 minutes
Ingredients:
Instructions:
Cook the fettuccine, linguine, or spaghetti in boiling salted water following package directions. Drain the pasta thoroughly.
Meanwhile, in a large saucepan over medium-low heat, combine the cream cheese, Parmesan cheese, butter, and milk, stirring constantly until smooth and hot. Do not boil. Taste and add salt and pepper, as needed. If desired, add about 1/2 teaspoon of garlic powder.
Add the hot drained pasta to the sauce and toss to blend.
Garnish servings with fresh chopped parsley.
Serve with hot baked garlic bread and a tossed salad.
Makes 4 Servings
Site Search