Orecchiette Pasta With Ham and Peas
by
, September 24, 2017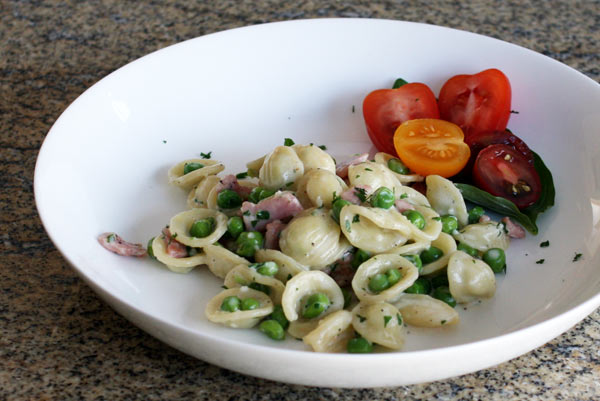 This delicious pasta dish can be made with shells or orecchiette pasta, or use another shape, like cavatelli or elbows. The simple combination of diced cooked ham, peas, cream, and Parmesan cheese is easy and delicious. For a meat-free meal, replace the ham with sliced sauteed mushrooms. Or use diced cooked bacon instead of ham for a smoky flavor.
Related:
Penne Pasta With Sausage, Cheese, and Spinach
Prep Time: 10 minutes
Cook Time: 15 minutes
Total Time: 25 minutes
Ingredients:
Instructions:
Cook the pasta in a large pot of boiling salted water following package directions. Drain the pasta thoroughly in a colander. Return the pasta to the pot and set aside.
Melt the butter in a medium saucepan over medium heat. Add the diced ham and cook until lightly browned, stirring frequently. Add the cream and peas. Bring the mixture to a simmer. Continue cooking for 3 to 4 minutes, or just until the peas are tender. Add 3/4 cup of Parmesan cheese and cook, stirring, until the cheese has melted, about 2 minutes. Add about half of the chopped parsley and stir to blend.
Pour the sauce over the pasta and toss until thoroughly coated. Add salt and pepper, to taste.
Put the pasta mixture in a serving bowl and sprinkle with the remaining chopped parsley.
Serve the pasta with extra Parmesan for sprinkling.
Makes 4 servings.
Site Search