Fry Bread
by
, July 18, 2017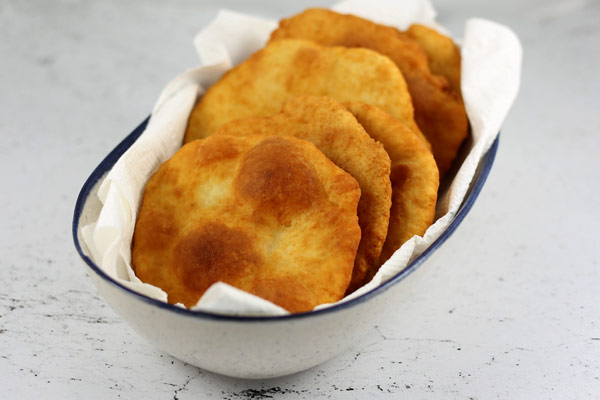 This fry bread is an excellent choice when you want bread with a meal but don't have the time or patience to make yeast rolls, biscuits, or cornbread. It's a very easy dough to mix, and each batch takes about 2 to 2 1/2 minutes to fry. Top the bread with tortilla filling and garnishes or chili or beans. Or use pizza toppings and bake just until the cheese has melted. For a sweet treat, sprinkle it with powdered sugar and serve the bread with syrup for dipping.
Prep Time: 8 minutes
Cook Time: 12 minutes
Total Time: 20 minutes
Ingredients:
Instructions:
In a deep skillet, heat about 1 inch of shortening or vegetable oil to 350 F.
Measure the flour, baking powder, and salt into a bowl. Mix well. Add the milk and mix until the dough comes together. Cover the bowl with a kitchen towel and let the dough rest for about 15 minutes.
In a deep skillet, heat about 1 inch of shortening or vegetable oil to 350 F.
Turn the dough out onto a floured surface and knead until you have a cohesive soft dough.
Roll the dough into a log and cut the log into 8 uniform pieces.
Roll a portion of dough into a ball and roll or pat and stretch it into a circle about 1/4 to 1/2-inch in thickness. Repeat with the remaining dough portions.
Carefully slide the bread into the hot oil. If your pan is quite large, you might fry two at a time. Just make sure they aren't crowded. Fry the breads in the hot oil for about 1 to 1 1/2 minutes. Turn with tongs and fry the other side for about 1 minute longer or until nicely browned.
Transfer to a paper towel-lined bowl or basket.
Top fry breads with taco filling and garnishes, pizza toppings, or chili. Or sprinkle with powdered sugar and serve with maple syrup.
Makes 8 Servings
Site Search