Grilled Fontina Cheese and Mushroom Sandwich
by
, May 7, 2017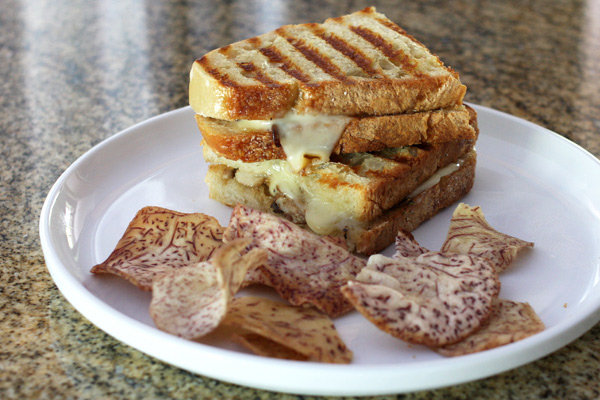 This grilled cheese sandwich is a flavorful combination of seasoned sauteed mushrooms and melty fontina cheese. Sourdough bread is great, but it's wonderful on a crusty Italian bread or French bread as well. The recipe makes two sandwiches but it's easily scaled up or down.
Prep Time: 8 minutes
Cook Time: 8 minutes
Total Time: 16 minutes
Ingredients:
Instructions:
In a small skillet over medium heat, melt 1 1/2 tablespoons of butter. Add the sliced mushrooms, sage, and balsamic vinegar. Cook, stirring, until the mushrooms are golden brown.
Place a skillet or griddle over medium heat. Alternatively, heat a panini press or tabletop grill.
Arrange the fontina cheese slices over two slices of bread. Divide the mushroom mixture between the two sandwiches and sprinkle with freshly ground black pepper. Top with the remaining slices of bread.
Butter the tops of the sandwiches lightly. Flip them over and place in the hot skillet or on the panini press. Lightly butter the tops of the sandwiches. Cook for about 2 minutes, or until the bottoms are browned and the cheese is beginning to melt and then flip them over to brown the other side.
Makes 2 sandwiches.
12 Servings
Site Search