Macaroni and Salmon Casserole
by
, July 4, 2017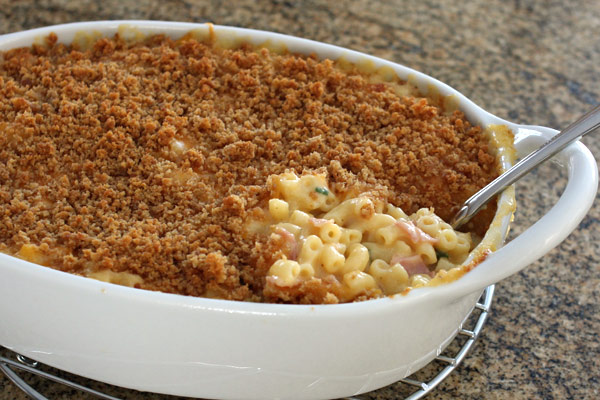 This easy macaroni and cheese casserole includes flaked canned salmon and a crunchy bread crumb topping. Feel free to replace the salmon with tuna or diced leftover ham. Add more cheese if you'd like.

Serve the casserole with a salad or fresh sliced tomatoes.
Prep Time: 15 minutes
Cook Time: 40 minutes
Total Time: 55 minutes
Ingredients:
Instructions:
Flake the salmon and pick it over, discarding any bones and skin. Set aside.
Butter a 2-quart baking dish. Heat oven to 375 F.
Cook macaroni in boiling salted water following package directions; drain well.
Melt 4 tablespoons of the butter in a medium saucepan over medium-low heat. Stir in salt, pepper, and flour, stirring until smooth and bubbly. Gradually stir in milk. Continue to cook over low heat, stirring constantly, until thickened. Add a small amount of the hot mixture to the beaten eggs, whisking to incorporate quickly.
Return egg mixture back to the saucepan mixture; whisk to blend well. Add the cheese, pimiento, lemon juice, Worcestershire sauce, salmon, and hot drained macaroni.
Turn the macaroni mixture into the prepared baking dish.
Melt the remaining 2 tablespoons of butter and toss with the bread crumbs until well blended. Sprinkle over the casserole.
Bake for 25 to 30 minutes. Let stand for 5 minutes; cut into squares to serve.
Makes 4 Servings
Site Search