Kale and Mustard Greens With Bacon
by
, October 22, 2017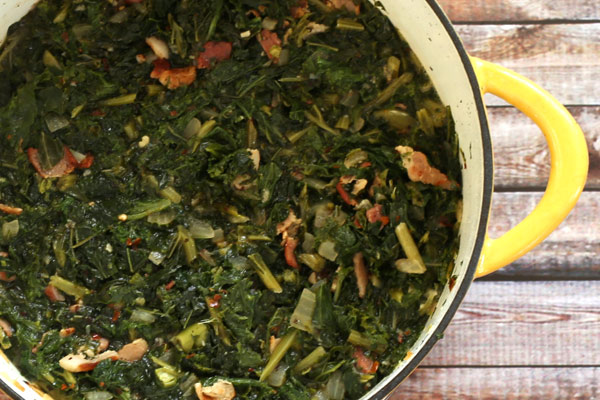 This is a flavorful combination of fresh greens. Wash the greens thoroughly in the sink a few changes of cold water. The addition of bacon adds some pleasant smoky flavor. It's easy to make it vegetarian as well -- leave the bacon out and use vegetable broth instead of chicken stock.
Related:
Slow Cooker Black-Eyed Pea Soup With Tomatoes and Greens
Prep Time: 20 minutes
Cook Time: 1 hour
Total Time: 1 hour 20 minutes
Ingredients:
Instructions:
Rinse the greens a few times in cold water until you feel sure there is no grit left clinging to the leaves. Cut out the thick stems and discard them. Chop the greens and set aside.
In a large Dutch oven or saucepan over medium heat, fry the diced bacon. Cook, stirring, until the fat is rendered and it is beginning to crisp. Add the chopped onion and black pepper to the skillet and continue cooking for about 5 to 6 minutes, or until the onion is lightly browned.
Add the garlic and cook, stirring, for 1 to 2 minutes longer. Add the chicken broth and bring to a boil.
Add the chopped greens a little at a time, adding more as they wilt down into the broth. When all of the kale and mustard greens are in the pan, add the vinegar, sugar, and crushed red pepper.
Cover, reduce heat, and simmer for about 1 hour, or until very tender.
Taste and add salt, to taste.
Makes about 6 servings.
Site Search