Applesauce Cookies With Vanilla Icing
by
, July 24, 2017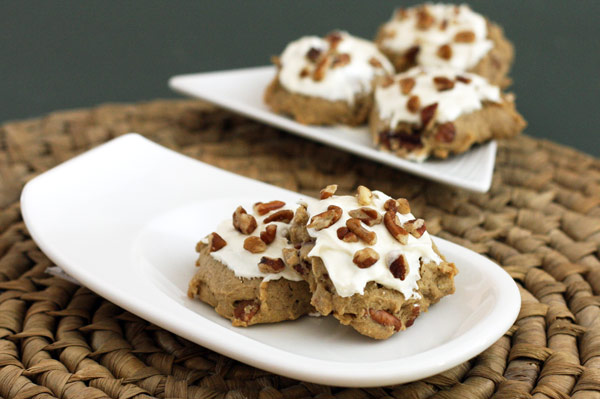 These soft applesauce cookies are finished with a wonderful vanilla icing. Feel free to replace part or all of the nuts with raisins or brickle chips.
Prep Time: 15 minutes
Cook Time: 10 minutes
Total Time: 25 minutes
Ingredients:
Vanilla Icing
Instructions:
In a bowl, combine the flour, soda, spices, and salt; stir to blend and set aside.
In a mixing bowl with an electric mixer, beat together the brown sugar and shortening until smooth and fluffy; beat in the applesauce, egg, and 1 teaspoon of vanilla. Stir in the flour and spice mixture until well blended. Fold in the raisins or chopped nuts.
Cover the bowl and refrigerate for 1 hour.
Heat oven to 400 F.
Drop the dough by rounded teaspoonfuls onto an ungreased or parchment paper-lined cookie sheet. Bake for about 8 to 10 minutes, or until set.
Immediately remove the cookies to racks and let them cool.
In a bowl, combine the 4 tablespoons of butter with the confectioners' sugar and 1 teaspoon of vanilla. Beat to blend with enough milk or half-and-half to make a thin icing.
Spread the icing on the cooled cookies. If desired, sprinkle with extra chopped pecans.
Makes About 3 Dozen Cookies
Site Search