Butter and Herb Roasted Chicken Breasts
by
, July 17, 2017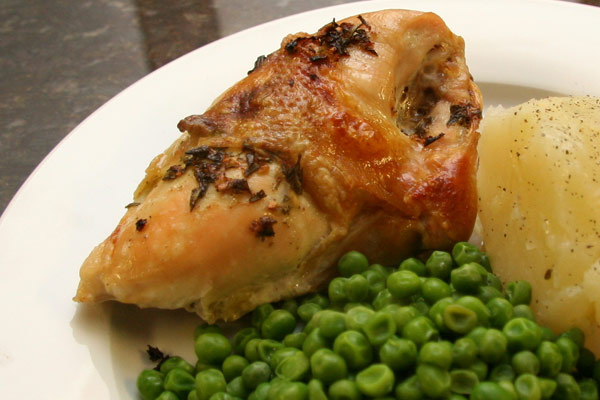 The pictured chicken was made with chicken breasts on the bone, but the recipe could easily be made with chicken legs or thighs. Just make sure the chicken is cooked to at least 165, the minimum safe temperature for chicken (USDA). If you have other fresh herbs, feel free to add them.
Prep Time: 10 minutes
Cook Time: 35 minutes
Total Time: 45 minutes
Ingredients:
Instructions:
Heat oven to 375 F.
Line a baking pan with foil and lightly grease.
Arrange the chicken breasts, skin side up, in the baking pan. Combine the butter with herbs and salt and pepper; mix until well blended. Put about 2 teaspoons of the mixture under the skin of each chicken breast. Sprinkle with salt an
Melt the remaining butter and herb mixture and set aside.
Roast the chicken breasts for about 35 minutes, or until chicken reaches 165 F, brushing with the remaining butter and herb mixture once or twice.
Makes 4 Servings
Site Search