Hard-Boiled Quail Eggs
by
, August 28, 2017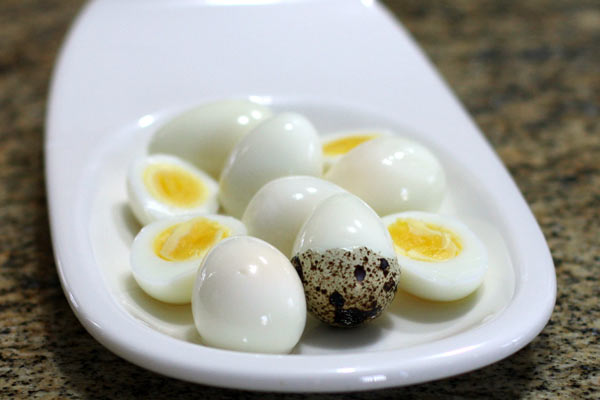 You'll be surprised at how easy these tiny quail eggs are to peel. The peeled eggs can be sliced or halved, and they make a pretty garnish for simple salads. They make fabulous appetizer toppings as well.
Related:
Deviled Eggs With Bacon
Prep Time: 10 minutes
Cook Time: 10 minutes
Total Time: 20 minutes
Ingredients:
Instructions:
Fill a bowl with ice and water and set aside.
Fill a saucepan with enough water to fully cover the eggs. Bring the water to a gentle boil. With a slotted spoon, carefully lower the eggs into the boiling water.
Boil the quail eggs for 4 minutes. With the slotted spoon, transfer the eggs to the ice water and let them cool for a minute, or just until cool enough to handle.
Remove an egg and gently tap it on the counter to crack in several places. Or tap in several places with a knife. Repeat with the remaining eggs. Put the cracked egg back in the ice water for about 3 to 5 minutes.
Remove and peel the eggs under cool running water. Start any cracked place on the egg; slide a fingernail under the shell and membrane to start peeling.
Once you begin peeling the shell and membrane away, just keep peeling gently until the whole shell is removed. Rinse and repeat with the remaining eggs.
Makes 12 servings.
Site Search