Ham and Spinach Pizza With Parmesan Sauce
by
, October 9, 2017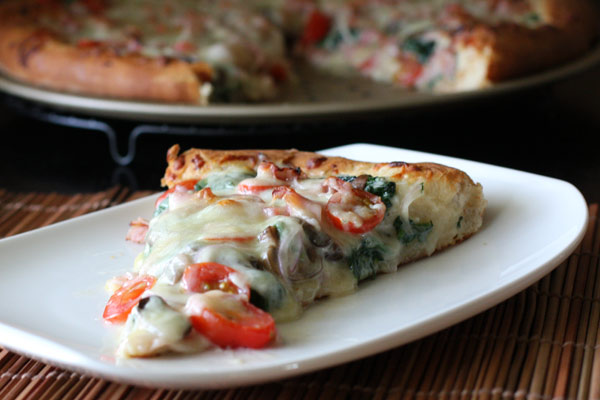 The unique pizza is made without red pizza sauce. The Parmesan cheese sauce is topped with diced cooked ham, spinach, sliced mushrooms, and sliced grape tomatoes. This is a delicious pizza, and it's a great alternative to the typical pizza. Use a ready-made crust or make this tasty homemade beer pizza crust.
Related:
Green Tomato Pizza With Garlic and Mozzarella Cheese
Easy Pour Pizza
Prep Time: 20 minutes
Cook Time: 9 minutes
Total Time: 29 minutes
Ingredients:
Parmesan Cheese Sauce
Pizza and Assembly
Instructions:
Heat the oven to 450 F.
Melt the butter in a saucepan over medium heat. Add the garlic and cook, stirring, for 1 minute. Add the flour and cook for 2 minutes, stirring constantly. Gradually add the milk, salt, and pepper. Stir to blend and add the minced basil. Add the Parmesan cheese and continue cooking until thickened, stirring constantly. Set aside.
Heat the olive oil in a skillet over medium heat. Add the sliced mushrooms and spinach and cook until the mushrooms are tender and spinach is wilted.
Spread Parmesan sauce on the pizza crust. Top with the mushrooms and garlic, and then add the sliced red onion, ham, sliced tomatoes.
Combine the mozzarella and cheddar cheese and then sprinkle it evenly over the toppings.
Bake for about 12 to 15 minutes, or until the crust is browned and the topping is bubbling.
Makes 6 servings.
Site Search