Slow Cooker Hamburger Soup
by
, September 24, 2017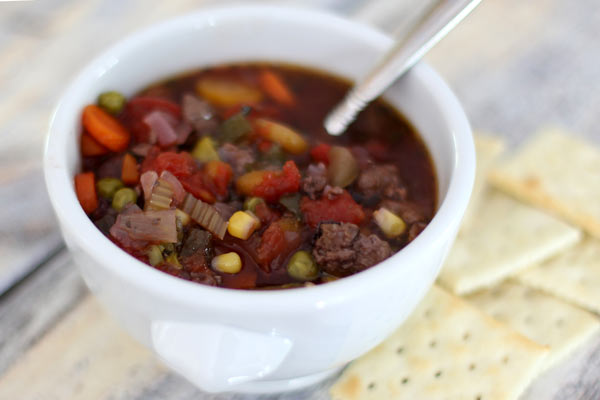 This delicious hamburger soup is cooked to perfection in the slow cooker. Cooked rice is added to the soup just before serving, but feel free to omit the rice if you are following a low carb diet. The onion soup mix, tomatoes, and a variety of herbs add flavor to the soup. Serve it with crusty homemade bread or crackers for a satisfying lunch or dinner.
Related:
White Bean Soup With Sausage and Fall Vegetables
Prep Time: 15 minutes
Cook Time: 6 hours
Total Time: 6 hours 15 minutes
Ingredients:
Instructions:
Heat 1 tablespoon of olive oil over medium heat. Add the ground beef and cook until no longer pink, stirring constantly.
Drain off excess fat and transfer the beef to the slow cooker along with the chopped onion, celery, bell pepper, beef stock, water, onion soup mix, tomatoes, tomato sauce, pepper, oregano, basil, and the bay leaf.
Cover and cook on LOW for 5 hours or on HIGH for about 2 1/2 hours. Add the frozen mixed vegetables and continue cooking on LOW for about 1 hour longer or on HIGH for 1/2 hour longer.
Taste and add salt and freshly ground black pepper, to taste. Add the parsley and rice; heat through.
Makes 8 servings.
Site Search