Easy Chicken Breasts With Creamy Wine Sauce
by
, July 3, 2017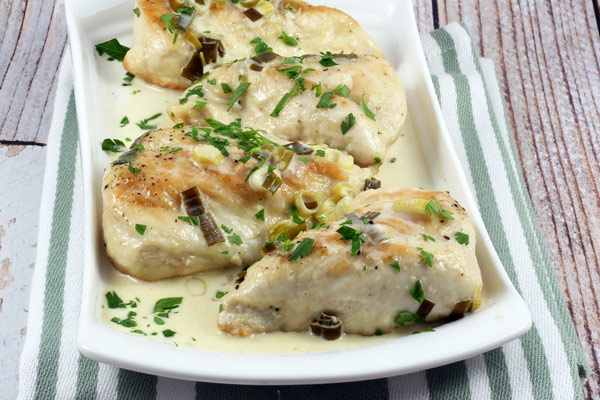 Use Champagne or a good dry white wine or Champagne in this delicious creamy chicken dish. I used wine in the pictured dish. This chicken is wonderful when served with a green vegetable and potatoes, noodles, or rice.
Related:
Top 24 Easy Chicken Recipes
Chicken With Basil Cream Sauce
Prep Time: 15 minutes
Cook Time: 55 minutes
Total Time: 1 hour 10 minutes
Ingredients:
Instructions:
Pat the chicken pieces dry with paper towels and sprinkle lightly with kosher salt and pepper.
Combine flour and Creole seasoning in food storage bag. Add chicken pieces and toss to coat lightly.
In a large skillet over medium heat, combine butter with the olive oil. When hot, add the chicken pieces and brown lightly on both sides. Add the green onions and cook for 1 minute longer. Remove the chicken to a plate and set aside.
Add champagne and chicken broth to the skillet; bring to a boil. Simmer briskly, uncovered, for 5 minutes.
Add the chicken back to the skillet. Cover, reduce the heat to low, and cook for about 15 minutes, or until chicken is tender and reaches 165 F on an instant-read thermometer inserted into the thickest pieces. Remove the chicken to a platter and keep warm.
Add the heavy cream to the skillet and cook, uncovered, for 5 minutes longer. Add parsley and salt and pepper, to taste.
Serve chicken with the sauce and sprinkle with Parmesan cheese.
Makes 4 Servings
Site Search