Chocolate Chip Ice Cream
by
, July 11, 2017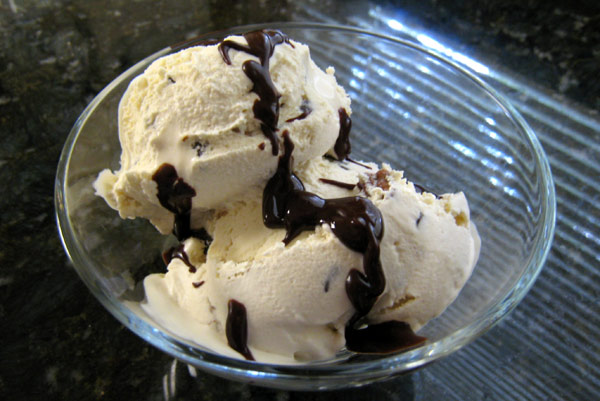 Brown sugar adds nice flavor to this easy chocolate chip ice cream. Add some chopped toasted nuts if you like. The fat from the egg yolks and heavy cream give this ice cream its smooth and creamy texture. If you don't want to wait until it chills in the refrigerator, set the bowl in an ice bath until it reaches 40 F.
Prep Time: 12 minutes
Cook Time: 8 minutes
Total Time: 20 minutes
Ingredients:
Instructions:
Combine the cream, milk, and brown sugar in a skillet over medium-low heat, stirring frequently.
In a small bowl, whisk the egg yolks with the salt.
When the cream mixture is hot but not boiling, gradually whisk about 3/4 cup into the egg yolks. Return the egg mixture to the saucepan and continue cooking and stirring until the custard reaches about 170 F to 175 F.
Place a mesh strainer over a bowl. Strain the hot custard mixture into the bowl and then whisk in the vanilla extract. Cover and refrigerate for at least 4 hours. Or set the bowl in an ice bath and keep replenishing the ice until the custard reaches 40 F.
Churn the custard mixture in an ice cream freezer following the manufacturer's instructions. Add the chocolate chips and pecans, if using, just before the ice cream is done.
Pack the ice cream into a container and store in the freezer.
Makes about 3 1/2 cups.
Makes 6 Servings
Site Search