Rice, Shrimp, and Chicken Pilaf
by
, July 20, 2017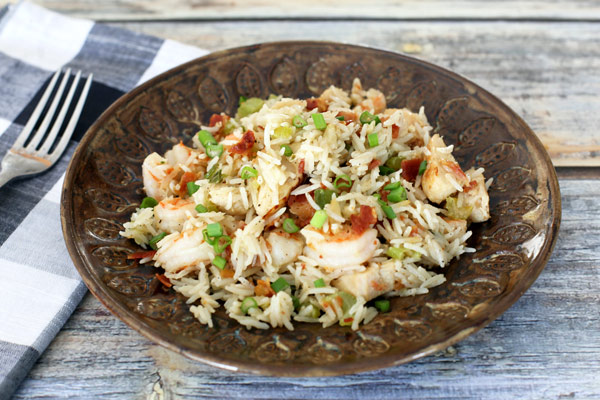 This rice pilaf makes a satisfying lunch or dinner dish with a tossed salad or sliced fresh tomatoes and cucumbers. The pilaf is made with rice, chicken, shrimp, and bacon. The flavors are amazing! Sliced scallions or parsley garnish the finished dish.
Prep Time: 20 minutes
Cook Time: 25 minutes
Total Time: 45 minutes
Ingredients:
Instructions:
Cook the bacon in a large skillet; drain on paper towels and set aside.
In the same skillet in the bacon drippings, saute the rice for 2 minutes. Add the chicken stock; cover the pan and cook for 15 to 20 minutes, or until the rice is tender. Add more stock or water if necessary.
Meanwhile, in another heavy skillet or saucepan, melt the butter; add onion, celery, and bell pepper. Cook, stirring, until onion is translucent and vegetables are tender.
Add the flour to the vegetable mixture and stir to blend. Add the Worcestershire sauce to the skillet along with the shrimp and chicken.
Cook, stirring, for about 5 to 6 minutes, or until the shrimp is cooked. Season with salt and pepper, to taste.
Add the cooked rice and crumbled bacon to the shrimp and chicken mixture; stir and heat through. If the rice mixture seems dry, add a small amount chicken stock or water to moisten.
Add salt and pepper, to taste.
Garnish with sliced scallion tops or fresh chopped parsley before serving.
Makes 4 Servings
Site Search