Chicken Stew With Cornmeal Dumplings
by
, July 21, 2017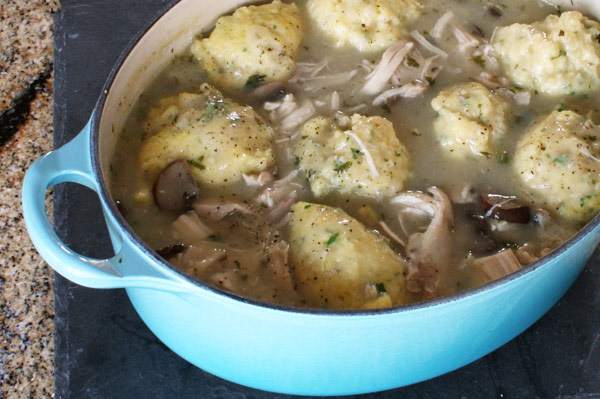 This easy chicken and mushroom stew is topped with soft, fluffy cornmeal and parsley dumplings.
Related:
Top 24 Easy Chicken Recipes
Prep Time: 15 minutes
Cook Time: 30 minutes
Total Time: 45 minutes
Ingredients:
Stew
Cornmeal Dumplings
Instructions:
In a Dutch oven or large, heavy saucepan over medium heat, melt 4 tablespoons of butter. Add the shallots and mushrooms and cook, stirring, until mushrooms are golden brown and the shallots are tender. Stir in the flour until well moistened. Continue cooking for 2 minutes, stirring constantly.
Gradually add the chicken broth and chicken base or granules and cook, stirring, until thickened. Add the cooked diced chicken, 1 tablespoon of parsley, thyme, and 1/4 teaspoon pepper. Add kosher salt, to taste. Simmer for about 5 minutes.
Meanwhile, in a mixing bowl, combine the flour, cornmeal, baking powder, and salt. Work in 2 tablespoons of cold butter with a pastry blender, fork, or fingers.
In another bowl, whisk together the egg and milk. Add to the dry mixture and stir with a fork until ingredients are moistened. Do not overmix.
Using a tablespoon, drop the dumpling dough onto the simmering stew, making about 8 to 10 dumplings. Simmer for 8 minutes. Cover tightly and simmer for about 10 minutes longer, or until the dumplings are cooked through.
Makes 6 Servings
Site Search