Easy Chicken Burritos, Oven or Slow Cooker
by
, October 23, 2017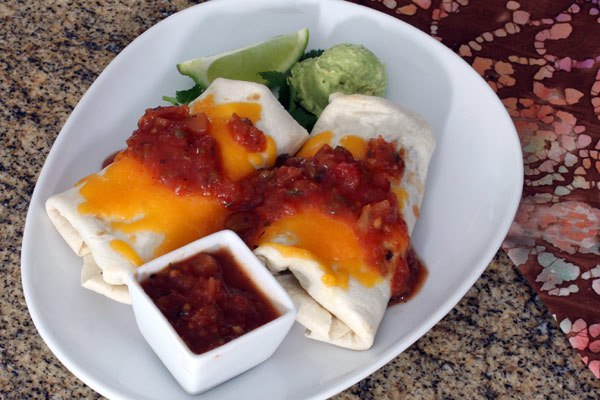 Assemble these easy chicken burritos with diced cooked chicken, cheese, and refried beans, along with your choice of vegetables and toppings. The burritos are wrapped in foil and heated in the slow cooker or oven.
Related:
Beef and Bean Burritos
Prep Time: 15 minutes
Cook Time: 1 hour 30 minutes
Total Time: 1 hour 45 minutes
Ingredients:
Instructions:
In a bowl, combine the chopped chicken and burrito or taco seasoning mix; toss to blend.
Spread the refried beans over the tortillas, dividing evenly among the 6 tortillas. Top the tortillas with the seasoned chicken, some of the shredded cheese, chopped tomatoes, and minced onions. Roll up, tucking the ends in to secure the filling.
Wrap each burrito in foil and arrange in a slow cooker, stacking if necessary. Cover and cook on HIGH for about 1 1/2 hours. Alternatively, place the wrapped burritos in a baking pan and heat in a 350 F oven for about 20 to 25 minutes.
Serve with salsa and guacamole or your choice of garnishes.
Makes 6 chicken burritos.
Site Search