Cauliflower Fried Rice
Updated July 1, 2017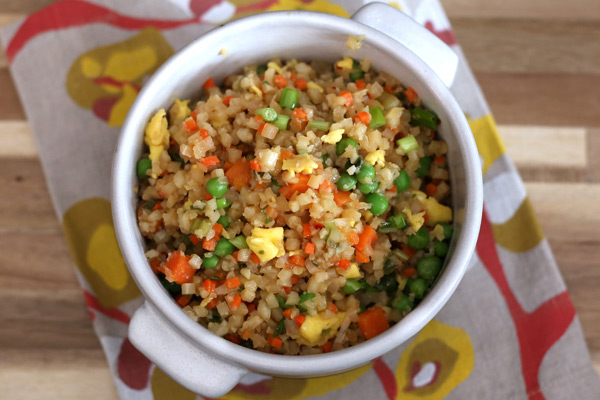 This cauliflower fried rice is a surprisingly flavorful low-carb version of everyone's favorite fried rice. I used frozen grated cauliflower in the recipe, but freshly grated cauliflower can be used as well. You won't miss the rice!
Prep Time: 15 minutes
Cook Time: 18 minutes
Total Time: 33 minutes
Ingredients:
Instructions:
If you are using fresh cauliflower, grate it using a grater or food processor with the medium to large-hole disk. Set aside.
Beat the eggs in a small bowl with a dash of salt.
Heat 1 tablespoon of peanut oil in a large skillet over medium heat. Add the beaten eggs and cook, stirring and breaking up, until set. Remove the eggs to a plate and set aside. Wipe out the pan.
Heat 2 tablespoons of peanut oil in the skillet over medium heat. Add the onions and cook, stirring, until translucent, about 3 to 4 minutes. Add the minced garlic and ginger and continue cooking for 2 minutes, stirring constantly.
Add the grated cauliflower, soy sauce, and chili paste to the skillet and cook for 4 to 5 minutes, stirring frequently. Add the vegetables and continue cooking and stirring for about 5 minutes. Stir in sesame oil and scallions. Add the eggs to the mixture. Taste and adjust seasonings with more salt or soy sauce, as needed. Stir to blend and heat through.
6 Servings
Site Search