Carrot Applesauce Cake
by
, August 15, 2017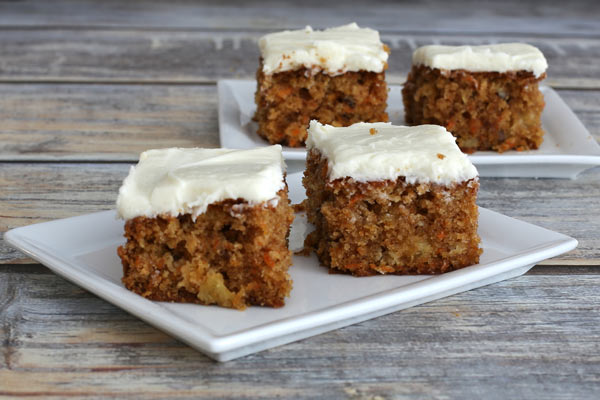 This moist carrot cake is made with raisins and chopped nuts. Drizzle some vanilla or cream cheese icing over the cake or sprinkle it with powdered sugar.
Related:
Jane's Cajun Cake
Prep Time: 10 minutes
Cook Time: 55 minutes
Total Time: 1 hour 5 minutes
Ingredients:
Instructions:
Preheat oven to 350 F.
Generously grease and flour a 9-by-13-by-2-inch baking pan.
In a bowl, combine the flour, baking soda, salt, cinnamon, and nutmeg; whisk or stir to blend thoroughly and set aside.
Beat the eggs; add the vegetable oil, granulated sugar, and vanilla. Stir in shredded carrots and applesauce. Add the stirred dry ingredients, raisins, and 1/2 cup of chopped pecans.
Spoon the batter into the prepared baking pan.
Sprinkle the remaining chopped nuts over the top and bake for 50 to 60 minutes, or until a toothpick inserted into the center of the cake comes out clean.
A toothpick inserted in center should come out clean.
Frost with cream cheese frosting or glaze as desired.
Makes 20 Servings
Site Search