Cabbage Casserole With Bacon
by
, August 16, 2017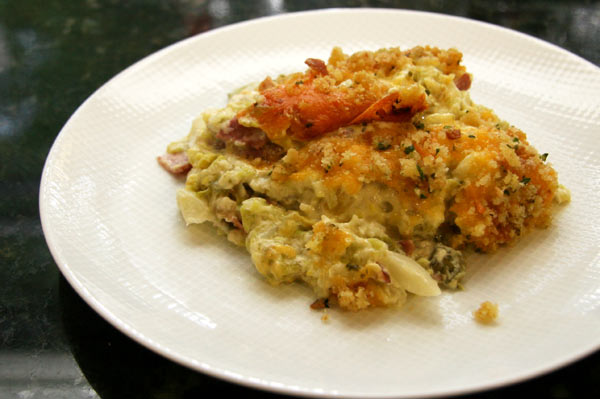 Bake this fabulous cabbage casserole for a big holiday meal or potluck supper. The cabbage is combined with cheddar cheese and some diced cooked bacon.
Related:
Stuffed Cabbage Rolls
Prep Time: 15 minutes
Cook Time: 55 minutes
Total Time: 1 hour 10 minutes
Ingredients:
Instructions:
Heat oven to 375 F.
Lightly grease a 2 1/2 to 3-quart baking dish.
Cut cabbage into 4 wedges; Cut out the core and cut each wedge crosswise into thin slices.
Put the cabbage in a saucepan, cover with water, and bring to a simmer. Cover and simmer until tender, about 10 to 12 minutes. Drain well and set aside.
Meanwhile, in a large skillet over medium heat, cook the diced bacon and onion until the onion is tender and the bacon is nearly crisp.
In a bowl, combine the soup, milk, mayonnaise, pepper, and cooked onion and bacon. Add the cabbage and stir to mix well.
In another bowl, combine the bread crumbs with melted butter and parsley. Toss to blend thoroughly.
Sprinkle about 1/3 cup of the buttered bread crumbs over the bottom of the casserole. Top with the cabbage mixture and then sprinkle the shredded cheddar cheese over all. Top the cheese layer with the remaining bread crumbs.
Bake the casserole in the preheated oven for 45 minutes.
Makes 8 Servings
Site Search