Breakfast Souffle With Sausages
by
, May 16, 2017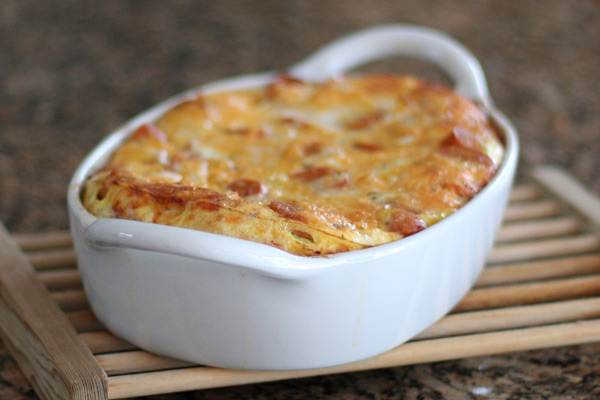 This souffle style breakfast casserole is made fluffy and light with beaten egg whites.
Prep Time: 15 minutes
Cook Time: 55 minutes
Total Time: 1 hour 10 minutes
Ingredients:
Instructions:
Heat the oven to 350 F.
In a large skillet over medium heat, cook the sausages. Add the onion, if using, and cook for about 4 to 5 minutes, until onion is tender and translucent. Drain sausages and onion on paper towels.
Cut the sausages crosswise into 3 to 4 slices each.
Wipe the skillet clean and set aside.
In a small saucepan over medium heat, melt the butter. Add the salt, pepper, and flour, stirring until smooth and bubbly. Add the cream and milk. Cook, stirring constantly, until the sauce mixture is thickened.
In a bowl, beat the egg yolks lightly; whisk in a small amount of the hot milk mixture. Pour the egg yolk mixture back into the saucepan and cook, stirring, until thickened. Do not boil. Remove from the heat and set aside.
In a bowl with electric mixer on high speed, beat the egg whites until stiff peaks form. Gently fold in the egg yolk mixture.
Arrange the sausages and onion in the skillet -- or in a buttered baking dish if your skillet is not oven safe. Pour the egg mixture over the sausage.
Bake for 40 to 50 minutes, or until a knife inserted in the center comes out clean.
Makes 4 Servings
Site Search