Italian Meatballs Bolognese
by
, May 26, 2017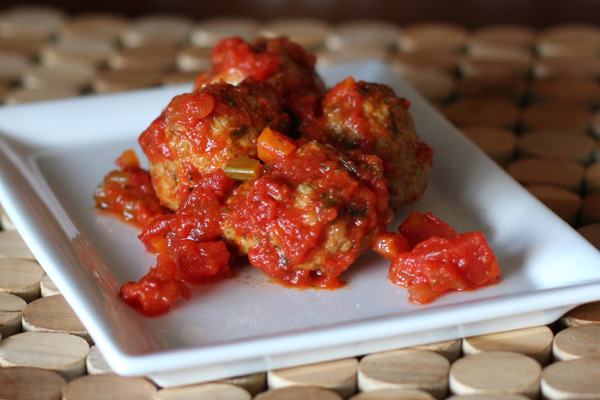 Use these delicious meatballs in meatball sliders or subs or serve them over pasta. The sauce is a classic bolognese mixture with vegetables and crushed tomatoes.
Prep Time: 30 minutes
Cook Time: 1 hour 30 minutes
Total Time: 2 hours
Ingredients:
Meatballs
Sauce
Instructions:
Meatballs
Heat the oven to 375 F.
Line a large rimmed baking sheet with foil and set a cooling rack in it; spray the rack with nonstick cooking spray.
Heat 2 tablespoons of olive oil in a large skillet over medium heat. Add the 1/4 cup of onion and 2 cloves of minced garlic and cook, stirring constantly, until tender. Set aside.
In a mixing bowl, combine the beef, veal, and pork. Mix in the lightly beaten eggs, 2 tablespoons of chopped parsley, the 3/4 teaspoon salt and 1/4 teaspoon pepper, bread crumbs, 1/3 cup of grated cheese, and milk.
Add the sauteed the onion and garlic mixture and blend thoroughly.
Shape the meatballs into uniform 1-inch meatballs (or larger) and arrange them on the greased rack. Bake in the preheated oven for 20 to 30 minutes, or until cooked through.
Sauce
In a large saucepan or Dutch oven over medium heat, saute the bacon, onion, celery, and carrot with 2 tablespoons of butter, stirring constantly, until vegetables are just tender. Add the 3 cloves minced garlic and 4 tablespoons of chopped parsley, the crushed and diced tomatoes, tomato paste, basil, 1 teaspoon of salt, and 3/4 teaspoon of pepper. Bring to a simmer and cover. Simmer over low heat for about 1 hour, or until vegetables are tender.
Add the meatballs and heat through. Stir in the 1/2 cup of Parmesan cheese.
Meanwhile, cook the spaghetti in boiling salted water following the package directions. Drain well.
Serve the spaghetti with the sauce and meatballs and provide extra Parmesan cheese at the table.
*Veal and pork make these meatballs flavorful and juicy but feel free to use all ground beef or a mixture of beef and pork.

Makes 8 to 10 Servings
Site Search