Blackberry Cake With Crumb Topping
by
, October 4, 2017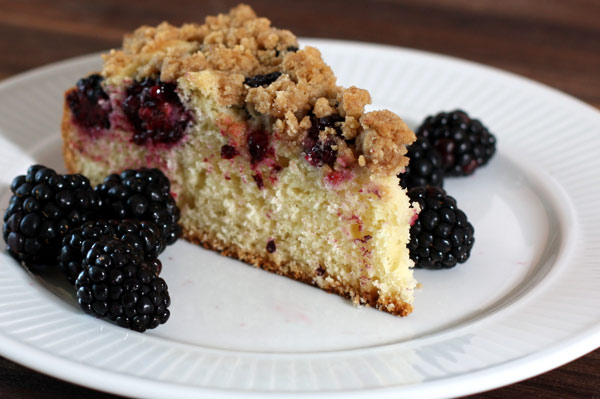 This blackberry crumb cake can be made with fresh or frozen blackberries. Serve it as a dessert with a scoop of ice cream or serve it as a breakfast cake. It's an excellent way to enjoy fresh blackberries.
Related:
Easy Blackberry Pie Recipe
Peach Crumb Cake With Streusel Topping
Prep Time: 15 minutes
Cook Time: 40 minutes
Total Time: 55 minutes
Ingredients:
Crumb Topping
Instructions:
Heat oven to 350 F.
Grease and flour a 9-inch springform pan.
Combine the 1 1/2 cups flour, baking powder, salt, baking soda. Set aside.
In a mixing bowl with an electric mixer, beat the 4 ounces of butter with the granulated sugar until light and fluffy, about 4 minutes. Beat in eggs until smooth. Add the vanilla and sour cream, blend well.
With the mixer on low speed, slowly beat in the flour mixture until smooth and well blended. Spread the mixture in the prepared pan.
Sprinkle the blackberries over the batter.
In another bowl, combine the brown sugar, 3/4 cup flour, cinnamon, nutmeg, and the 5 tablespoons of melted butter. Mix with a fork until crumbly. Sprinkle the crumbs evenly over the blackberries.
Bake for 35 to 40 minutes, or until set and lightly browned. A toothpick inserted into the center of the cake should come out clean or with very few crumbs clinging.
Cool for about 10 minutes on a rack; remove the pan sides and cool completely.
Makes about 10 to 12 servings.
Site Search